Combat readiness will be moving to the back of the bus. Repeal of the DADT (Don't ask, don't tell) policy regarding open homosexuality in the military seems to be transmogrifying into an affirmative action recruitment program for those with non-standard sexual orientations/genetics — that is, if one accepts the "I just can't help myself" gay contention. From yesterday's Washington Times:
Activists push partner benefits for military gays
Network seeks re-enlistment rights for DADT discharges at same rank

By Rowan Scarborough
The Washington Times
Thursday, October 6, 2011

A prominent gay advocacy group has issued a five-point manifesto of new rights it wants from the U.S. military since the Sept. 20 repeal of the longtime ban on open homosexuals in the ranks.

The Servicemembers Legal Defense Network (SLDN) already has stated that it wants benefits for the partners of gay troops as well as for President Obama to lift the ban on "transgenders" serving openly. Its manifesto, "Beyond Repeal," lists more goals.

For one, it wants the Pentagon to pave the way for veterans discharged under the 1993 policy, known as "don't ask, don't tell," to be able to re-enter the service "if they meet the qualifications for rejoining."

The Pentagon, at a time when all four services are looking to cut personnel, has said that such people do not have an automatic right to join and must start the process with a military recruiter.

SLDN is warning that former members may file federal lawsuits if the military does not give them their exact former positions at time of their discharge.

It also is urging the military to upgrade discharges for those kicked out under the "don't ask, don't tell" policy or previous bans imposed by regulations.
With another nod to the over-lawyerizaton of the military perhaps we'll soon see "recruitment" posters along the following lines: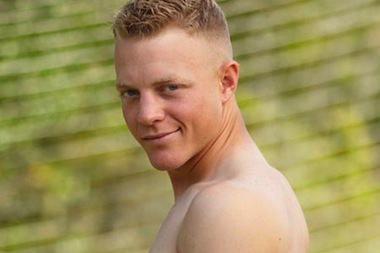 [Picture was published with the original article, so this isn't invading anyone's privacy. . .assuming, that is, that Mr. Simmons even gives a diddly squat. Might even help his film career. As they say in Hollywood, the only bad publicity is no publicity. Right?]
Court Says Marine Porn No Big Deal
Under the Radar
October 1, 2011

Sgt. Matthew W. Simmons took active duty leave from the Marine Corps Band to go star in some gay porno movies under the stage names "Christian Jade" and "Adam."

He got himself in trouble when he wore part of his Marines uniform in some of the videos and identified himself as a Marine in some "behind-the-scenes" footage shot alongside one of his movies. After guilty-plea convictions on several charges, Simmons took his case to the U.S. Navy-Marine Corps Court of Criminal appeals.

The court ruled that Simmons did not technically violate the ban on making commercial use of his uniform, even though he was paid $10K for his performances:

"We are also not satisfied, on the basis of this record, that the appellant's statements or wear of uniform items may create an inference of service endorsement of the activities depicted. The appellant never wore a complete 'uniform,' so the general public could never receive 'visual evidence of the authority and responsibility vested in the individual by the United States Government.' He did not voice any Marine support for what he was doing or any service views on the propriety or impropriety of his conduct."

Aspiring military lawyers can read the entire decision here. We're not doing any linking here, but if you want to learn more about the details of Sgt. Simmons' budding film career, Gawker can hook you up with that. (via Suits & Sentences)
All of this nonsense just doesn't strike me as of any benefit to the U.S. Military as a fighting force. Considering their early enthusiasm for the repeal of DADT, I wonder if Messrs. Krauthammer and Kristol have anything to say about these recent developments? Gentlemen?
Now, let's see, wonder what else Mr. Obama is up to? Ready to pull anymore proclamations out of your hat? Or anywhere else?
Ciao,
Dennis