Yesterday, there was a two-hour kerfuffle on the House floor reported as follows by The Hill:
House approves resolution opposing $500 billion debt-ceiling increase 
By Pete Kasperowicz – 09/14/11 08:11 PM ET

The House on Wednesday passed a resolution disapproving of an expected $500 billion increase in the debt ceiling that — despite the vote — is expected to take effect this month. Members voted 232-186 in favor of the resolution, H.J.Res. 77. Only five Republicans voted against the measure, and the 228 Republicans who supported it were joined by just four Democrats.

[snip]

During nearly two hours of debate on the resolution, House Democrats mocked Republicans for bringing it up at all, particularly after most Republicans agreed just last month to support the agreement that allowed the federal debt ceiling to rise in return for plans to cut $1.5 trillion — or more — in planned spending.

"We have members on the majority side who have trouble explaining to their primary voters why they had a temporary embrace of reality," Rep. Barney Frank (D-Mass.) said. "So having done what they had to do, they now want to pretend that they're going to undo it."

Frank also charged that Republicans are disingenuous about wanting to reduce the deficit, given that they have supported wars and tax cuts in the past without paying for them.

Rep. Tom Reed (R-N.Y.) called on members of the House to support the resolution in order to remind President Obama "how serious we are about this issue."

"This war on our national debt is going to go on for many years to come, but we need to take those first steps," Reed said.
Just what we need, another WAR. Will the Republicans ever get serious? Being semantically accurate is not the same thing as being seriously correct. Believe President William Jefferson was the one really good at semantic precision.
The Dems weren't about to let it go at that:
Rep. Sandy Levin (Mich.) and other Democrats also charged Republicans with wasting time that could be better spent working on legislation aimed at creating jobs.

"This resolution is a dangerous distraction from the unprecedented challenge before us," Levin said, adding that the House should be focused on passing Obama's jobs plan.

But House Republicans have all but rejected the president's plan because it proposes paying for billions of dollars in new spending with tax increases. 
Ah, Obama's jobs plan! More on that later, but here's the "Whoop-de-doo" debt update as of Tuesday past: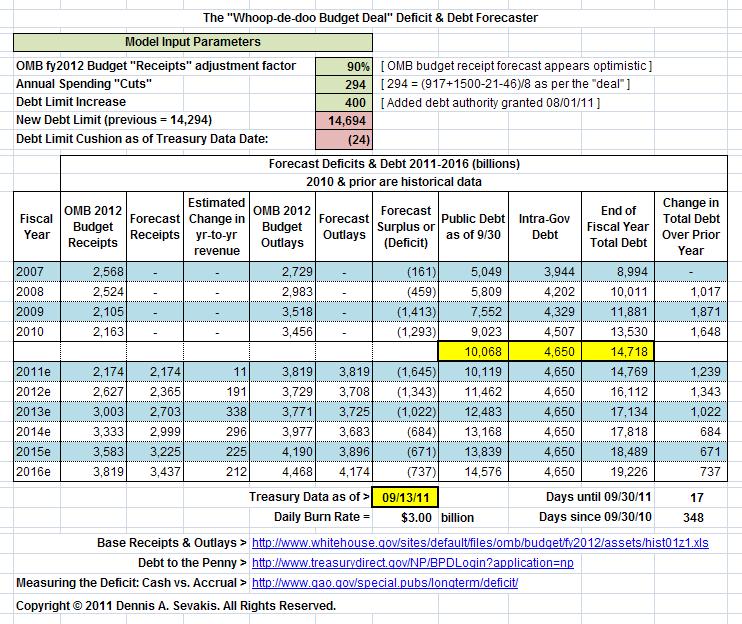 What?! As of the 13th we were already $24 billion over the current limit! Guess we can wait a few days for the Prez to unilaterally raise it the additional $500 billion. I'll have to incorporate that in the next Whoop-de-doo update.
Moving right along from debt wars to job creation, we have the "American Jobs Act" or "Here's looking AJA!" This is the latest legislative issue to appear on the event horizon, and the Democratic National Committee is in full swing cranking-up the propaganda machine, to wit: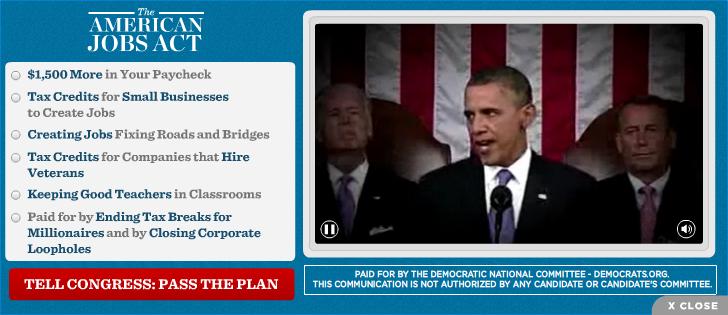 The above screen shot is of a mouse-over popup that appeared, in of all places, on the nearby "Weather Underground" station page where I normally check local meteorological conditions. This little gem played a short clip of excerpts from Obama's JOBS address to a joint session of Congress, and included a link to the whole thing for those who just can't get enough of Obama speechifyin'. However, for the moment it appears to be no longer available at that site, but you can have a peek here.
Must have been intended for early-risers only. Like people who have jobs? I don't. Guess I should sleep in and not trouble myself with all this political stuff.
Ciao,
Dennis